All Aglow Shadowbox Advent Calendar
$150.00
All Aglow Shadowbox Advent Calendar
LIMITED-EDITION 2021 ADVENT CALENDAR! 
Advent Calendar will be shipped out early November. 
Since it first debuted in 2018, our Adv...
LIMITED-EDITION 2021 ADVENT CALENDAR! 
Advent Calendar will be shipped out early November. 
Since it first debuted in 2018, our Advent Calendar has developed a legendary reputation amongst beauty lovers as THE most EXTRAvagant holiday gift to give. This year, we're unveiling a showstopping shadowbox, silhouetted with images of the Beekman 1802 Mercantile in a magical winter wonderland. This keepsake box is filled with 24 of our best-selling goat milk goodies for face and body, making each new day of the holiday season just as bright as the last.
Features
Light-Up scene with on/off button
Shadowbox handmade cover design
24 Inner Drawers with skin & bodycare surprises
Keepsake Box
This item is not eligible for further discounts. 
Starting Dec 1, set aside one peaceful moment a day with your family to hit pause and indulge in self-Kindness with 24 days worth of skin & bodycare surprises. Simply turn the light on the side of the box on and off with each passing day as you enjoy the most magical countdown to Christmas.
Spoiler Alert!
This year's showstopping calendar will include these 24 mini-sized bath and body must-haves. (We're sorry! But some surprises are just too good to keep secret!)

Pure Cuticle Serum
Vanilla Absolute Cuticle Cream
Pure Cuticle Cream
Pure Stick of Butter
Probiotic Milk Bar
Mini Dewy Eyed Serum
Mini Milk Wash Jelly Cleanser
Mini Milk Foam
Mini Bloom Cream
Mini Dream Booster
Mini Golden Booster
0.5 oz. Sample Arcadia Hand Cream
0.5 oz. Sample Fresh Air Hand Cream
0.5 oz. Sample Honeyed Grapefruit Hand Cream
Pure Lip Balm
Lavender Lip Balm
Honeyed Grapefruit Lip Balm
Fig Leaf Lip Balm
3.5 oz Pure Bar Soap
3.5 oz Vanilla Absolute Bar Soap
3.5 oz Honeyed Orange Blossom Bar Soap
3.5 oz Ylang Ylang Tuberose Bar Soap
3.5 oz Lavender Bar Soap
Bloom Pin

6.5 inches x 9 inches by 11 inches. When opened fully, calendar measures 18 inches in length.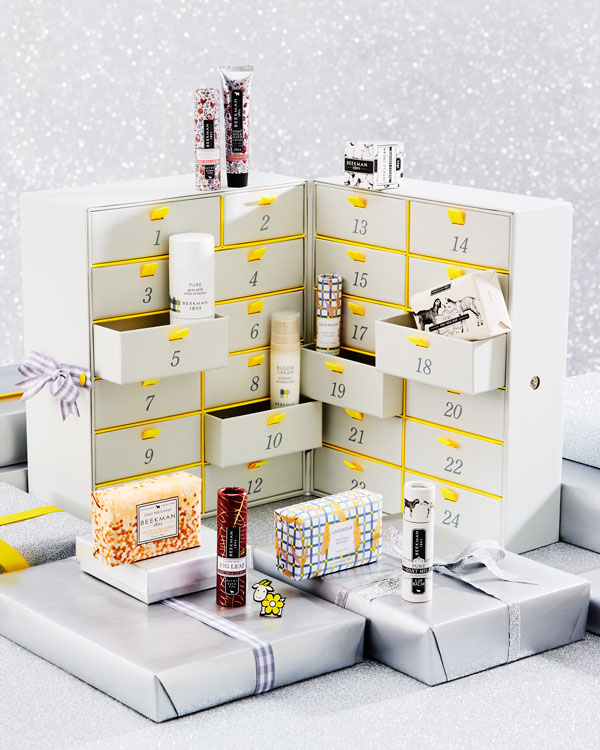 COUNTDOWN WITH KINDNESS
Gift the most memorable countdown with 24 goat milk surprises that'll make every day feel like Christmas morning. These beauty care bestsellers nourish and soften with our unique goat milk formula for skin that jingles and a holiday season they'll never want to end.
JOY THAT JINGLES ALL WAYS
The magic in the air that we all feel this time of year stretches far beyond a single day...so why wait to join in on the festivities? Celebrate the season of gifts that jingle all ways with a Kindness celebration like no other. This thoughtfully constructed Advent Calendar is jam-packed with skincare and bodycare essentials that are as thoughtful as they are extravagant for joy that jingles for all to hear.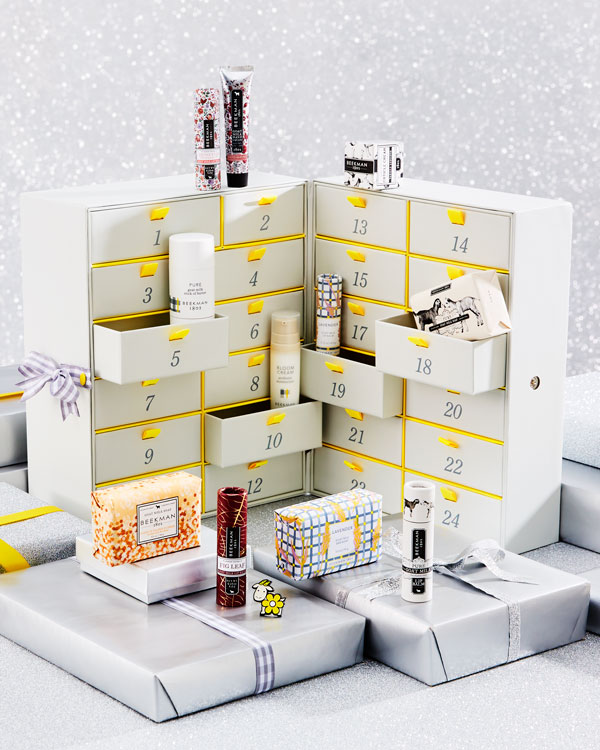 If left on continuously, the battery will last 8-10 hours.
Each Advent Calendar comes with one 500mAh Lithium battery. It is sealed within the calendar and we do not recommend trying to replace it.
Of course! Our Advent Calendar is made to be reused and loved year after year. We recommend using travel-sized and mini items when refilling your calendar.
This item will start shipping the first week of November. Any other items in your order will ship separately.