93%
said this serum leaves skin soft*
*Based on 8 week consumer study, when used as directed
90%
said this serum creates healthier looking skin*
*Based on 8 week consumer study, when used as directed
90%
said skin tone looked smoother*
*Based on 8 week consumer study, when used as directed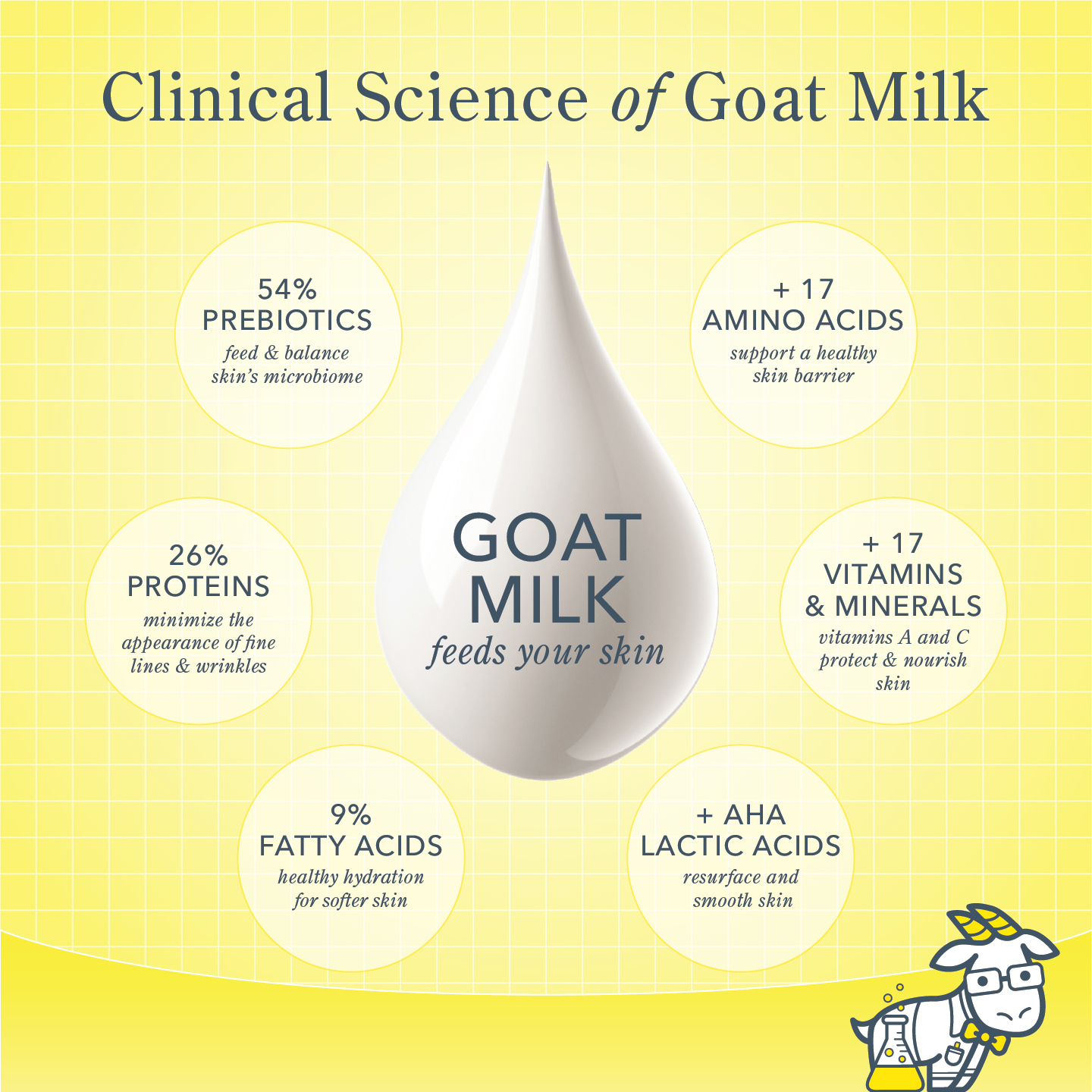 Why It Works
Squalane and Ceramides create a natural hydration barrier to protect and lock in moisture
Citrus Unshiu Peel Extract is a skin-brightening ingredient designed to reduce the appearance of uneven skin tone and age spots by inhibiting melanin production
Clinically Kind® Skincare: Clinically tested, scientifically proven, and made for sensitive skin. Effective clean formulations that work with your skin, not against it.
Active Botanical Blend: Comfrey, blue thistle, chamomile, cucumber, and aloe deliver powerful antioxidants to help support you skin's moisture barrier
The Goat Milk Difference
Goat milk has been used for centuries as a cure-all natural remedy for skin conditions such as eczema and psoriasis thanks to its deeply nourishing properties. Not only is goat milk rich in lactic acid, which helps it to exfoliate dead skin cells and reveal a new layer, but it contains the same pH as human skin, which helps to keep the microbiome of your skin well-balanced and prevent visible signs of irritation, sensitivity, and premature aging.
Kind Ingredients. Real Results.
Ceramides
Help to strengthen and support a healthy skin barrier and prevent moisture loss out of the skin.
Squalane
A natural antioxidant that helps to hydrate and soften skin.
Citrus Unshiu Peel Extract
A natural, skin-brightening plant-extract that helps reduce the appearance of uneven skin tone and age spots.
My Skin Biome
Get personalized advice
Kickstart a love affair with your skin in a few easy steps. Just scan the QR code with your mobile device, snap a photo, and get your custom skin health analysis in 30 seconds.
Book Your Virtual Consultation
Have questions about your routine? Book your FREE 1-on-1 consultation with our skincare experts today.
Ingredient Glossary
Products free of toxins and the harsh ingredients. Learn more about what's behind each formula.
Explore Neighbor Rewards
It pays to be Kind. Become a Neighbor to earn points and exclusive rewards every time you shop.
Earn Points on Verified Orders
93%
said this serum leaves skin soft*
*Based on 8 week consumer study, when used as directed
90%
said this serum creates healthier looking skin*
*Based on 8 week consumer study, when used as directed
90%
said skin tone looked smoother*
*Based on 8 week consumer study, when used as directed