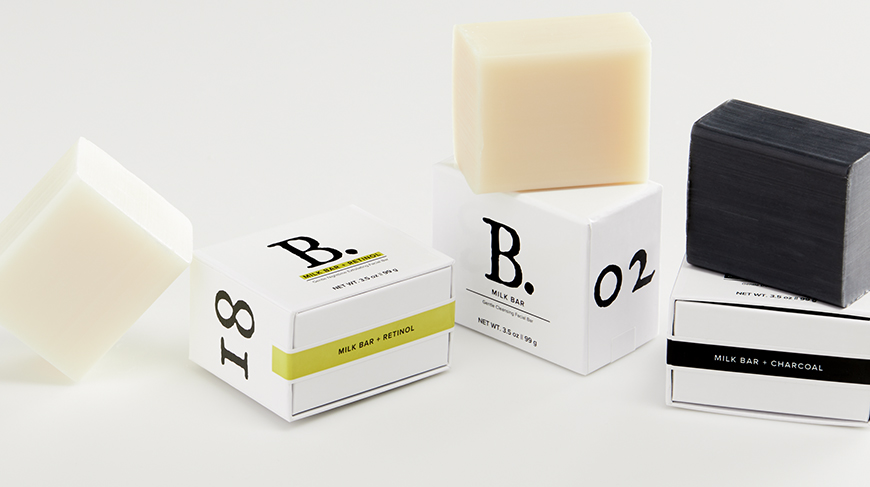 Which Milk Bar is right for your routine?
Skin is a vital part of our bodies; it acts as the main barrier between the outside world and our inner selves. Our skin keeps all of the grime, pollution, and various natural elements from getting into our bloodstream. As a result, if we don't take the time to give it a little TLC in the way of daily cleansing, this grime might keep our skin from sparkling the way it was meant to.
We've developed the perfect skincare routine for you – one that deeply cleanses without irritating or drying out your skin. Our Triple Milk Bars transform into luxurious foaming cleansers and are made from nourishing natural ingredients. Each of these bars is paraben-free, cruelty-free, sulfate-free and made in the U.S. These bars come in waxed boxes that are gentle on the environment and perfect for traveling with. Keep reading to learn about the benefits of each bar and how to use them in your skincare routine.
This is our classic Milk Bar, created with goat milk, coconut milk, and milk protein as part of our original Triple Milk collection. Like all products in this collection, it's made with natural moisturizers and cleansers, making it safe for everyday use.
Our classic Milk Bar is EWG verified which means its products avoid ingredients that have been flagged for potential health concerns. We fully disclose ingredients to consumers and ensure these products are adequately preserved and free of contaminants. We also follow good manufacturing practices in an effort to be as transparent as possible to our consumers.
We created this bar as a part of our double cleanse system with our Triple Milk Cleanser. First, use our Milk Cleanser to attack dirt and oil and breakdown makeup. Follow up with our Triple Milk Bar to fully clean the skin and set it up as the perfect canvas for your serums and moisturizers.  
Detoxifying charcoal, soothing goat milk, and coconut milk and nourishing milk proteins make this bar great for exfoliating sensitive skin. Charcoal is made up of almost 100% carbon and is made from heating any carbon-containing material such as coal. This activation process is what removes impurities and creates small granules. As a result, activated charcoal has a large surface area that absorbs drugs and toxins. It's effective topically for cleansing your skin as it absorbs all of the dirt, oil, and waste making it perfect for removing makeup or for people with oily skin. The granules created as an effect of the activation process are the same consistency as sand and work as exfoliators, effectively resurfacing your skin, removing all of the impurities that the charcoal absorbs out of your pores. This bar can be used either twice a week or nightly (in rotation with the retinol bar), depending on your skin's needs. 
This regenerative bar is made with Granactive Retinol, a gentler form of retinol made from retinoic acid ester (an active form of Vitamin A). We chose to use Granactive Retinol because other forms of Retinol (a specific type of retinoid or Vitamin A derivative) can be harsher on the skin, leading to irritation and making it difficult to use long-term.
A 90-day study showed that using Granactive Retinoid on the skin not only showed improvements in skin texture, brightness, decrease in wrinkles and overall rejuvenation in 100% of the subjects, but almost 90% of these people showed good or very good tolerance to this retinoid regimen with minimal adverse side-effects, making it perfect for long-term use.
We recommend using this bar nightly (or just twice a week for sensitive skin) in rotation with the charcoal bar (using the milk bar in the mornings). A reminder that retinoids do increase sensitivity to sun exposure, so make sure to apply SPF every day! 
Sources:
https://www.ncbi.nlm.nih.gov/pmc/articles/PMC5849435/
https://www.ewg.org/ewgverified/standards.php
https://www.ncbi.nlm.nih.gov/pmc/articles/PMC1306980/?page=1
https://www.ncbi.nlm.nih.gov/pmc/articles/PMC6715328/
Shop this story
Liquid error (sections/article-template.liquid line 109): product form must be given a product
Charcoal Milk Bar
Charcoal Bar
$12.00
Triple Milk Retinol Bar
Retinol Bar
$12.00