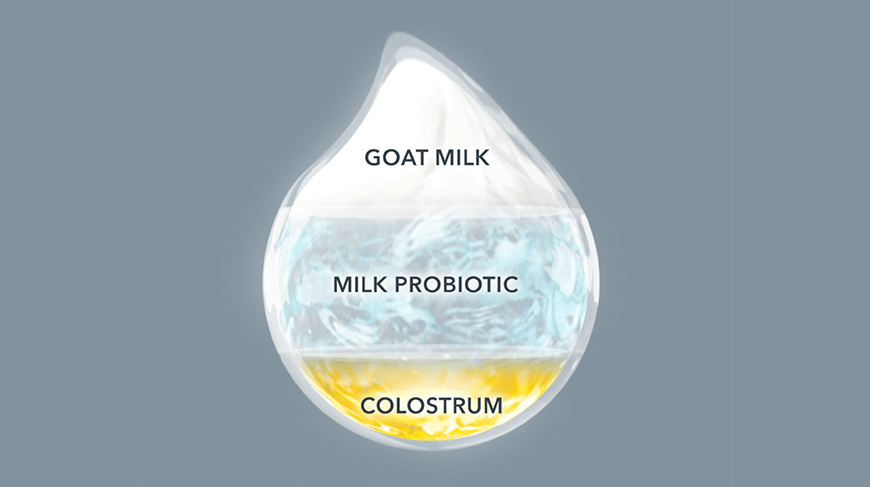 This Triple Milk Complex Will Change Your Life
It started with kindness. 
After 12 years of researching, testing, retesting, and, finally, perfecting, we're proud to unveil our most innovative skincare technology yet: The Triple Milk Complex. 
Our Triple Milk Complex is part of a highly dynamic approach to skincare. It's made up of goat milk, probiotics, and colostrum.
This unique milk-sourced complex is our breakthrough skincare technology based on our research on the powerful benefits of goat milk. We've clinically proven the science behind our skincare with healthy probiotics — specifically milk probiotics — in formulas designed to make your skin bloom. 
We're taking skincare beyond a topical application that promises "glow." With clean, probiotic-living skincare, your skin doesn't just glow. It blooms.
Dr. Brent Ridge, cofounder of Beekman 1802, says our Triple Milk Complex was developed when we promised our neighbors more goat milk skincare. "People with super sensitive skin — eczema or psoriasis or other inflammatory conditions — noticed their skin clearing up," Dr. Ridge says. After using our goat milk soap, they started to ask us for more products that had the powerful benefits of goat milk. 
Goat milk contains a high level of lactic acid, an Alpha Hydroxy Acid (or AHA), which naturally exfoliates and brightens your skin. 
It also contains precious skin minerals like selenium and is loaded with vitamins, particularly vitamin A, the most important vitamin for the skin. 
And because goat milk has the same pH as human skin, making it exceptionally gentle, your skin just drinks it in. That helps to reduce inflammation and preserve the natural oils and bacteria that are healthy on your face. 
"What's so revolutionary about the Triple Milk Complex," Dr. Ridge says, "is that probiotic skincare is suitable for every kind of skin. We have all the ingredients in the product that give people instantaneous results they want: suppleness, brilliance, resiliency. By feeding that microbiome, your skin becomes stronger and healthier." 
That's right. Our Triple Milk Complex boosts the lactic acid mantle that naturally protects and nourishes the skin's microbiome, a living environment made out of billions of healthy bacteria. Just like your gut benefits from probiotics, so does your skin. 
What makes our Triple Milk Complex special is that it's our proprietary blend uniquely formulated to feed, nourish and protect your microbiome. 
The gentle acid content and pH of the goat milk refines and primes your skin, acting like a delivery system. 
And the probiotics — which are uniquely, 100 percent traceable to healthy bacteria found in milk — nourish and protect the healthy bacteria to strengthen your skin. 
Colostrum, which is the first milk a cow produces, is a precious, densely nutritious, and potently nourishing milk. ("We call it 'golden milk,'" Dr. Ridge says, "because it contains growth factors.") 
Colostrum nourishes and protects skin from the inside out, and when your microbiome is nourished and protected, your skin begins to work in harmony, allowing instant absorption into your skin, so you start to feel the wonderful effects immediately. 
In other words, what we wanted to do was develop a skincare product that gives our bodies what they need -- a healthy lactic acid mantle, neutral pH that reinforces, replenishes, and strengthens our skin and its biome, and soothing, natural ingredients. It's not only the best way to care for ourselves. 
It's also the kindest, cleanest, and most effective formulas for your skin. 
Shop this story
Bloom Cream Daily Probiotic Moisturizer
Daily Probiotic Moisturizer
$18.00
Milk Bar Probiotic Facial Cleansing Bar
Facial Cleansing Bar
$12.00
Milk Wash Exfoliating Jelly Cleanser
Exfoliating Jelly Cleanser
$10.00