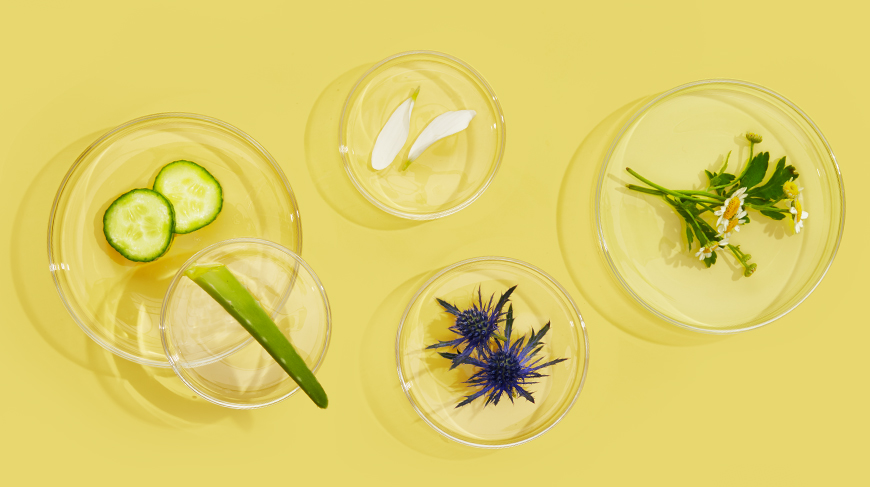 Skin That Blooms: The Beekman 1802 Active Botanical Blend
As you know, Beekman 1802 was inspired by an idyllic farm in Sharon Springs, New York. The nearest pharmacy is miles away from our 59 acres of pastures and gardens. As a community, we're very much aware of the healing powers of nature on a deeper level. We've discovered the skin-nourishing benefits of various plants that grow on our farm at different times of the year. We always reach to nature for inspiration, and our skincare line is no exception. We've combined the most powerful plant-based ingredients into our Active Botanical Blend. Paired with our Triple Milk Complex, it forms the foundation of the new line, available now!
"Beekman 1802 is a community of neighbors," says our co-founder Dr. Brent Ridge. "And your skin is a community of microbes that is strongest when it's in balance."
We understand how difficult it can be to maintain balance with our skin, or even just in our lives, which is why we often rely on the help of our community. Our neighbors at Proven Winners help us to maintain and grow the Beekman garden, as well as help educate us on the various beneficial ingredients provided by our wonderful plethora of crops.
We are extremely fortunate to be partnered with such a wonderful brand that pushes us to constantly find new ways of innovation, and inspires us to spark beauty and joy every day. We only hope that some of this inspiration rubs off on you too! Together, we are able to cultivate healthy botanicals for happy skin. 
When that balance is disrupted, Brent notes, you might get conditions like redness, acne, and dullness. But when the community works in harmony, it's as if your skin is in full bloom (read: healthy glow).
"Our milk-sourced probiotics kill the bad bacteria to give you more good skin days," says Brent.
And isn't that all we really want from our skincare rituals? 
"The ingredients in the Active Botanical Blend are like a shield that interrupts environmental damage so the Triple Milk Complex can continue to keep the barrier of the skin healthy, smooth and young," says Brent.
We've carefully researched the ingredients for their botanical properties and symbiotic relationship with our Triple Milk Complex. Each a hero in its own right, the elements of our Active Botanical Blend possess unique qualities that give you the happiest skin you've ever had.
The Healer: Comfrey
 "The soothing leaves of the comfrey was one of the first wild plants we utilized on the farm," says Brent. "I had developed bursitis in my elbow after a long week of clearing land for the vegetable garden. I searched the internet for old-fashioned remedies and came across instructions for making a comfrey poultice.
Not only did the warm poultice provide relief from the internal inflammation, but I noticed a wonderful difference in the smoothness of the skin when I removed the bandage. With a little research, we discovered that the leaves contain allantoin and rosmarinic acid, a powerful duo that reduces inflammation and boosts cell growth. This means that it helps keep irritation contained while revitalizing the skin."
The Brightener: Blue Thistle
A bit of brightening is the goal of any skincare regimen worth its salt. To this end, we've brought in blue thistle — and we're the only skincare company to use it.
"The pastures that surround the farm at Beekman 1802 are filled with blue thistle," says Brent. "The thorny stalks grow tall and sturdy, and the purple flowers are excellent nutrition for the bees. As much as these prolific growers love the sun, they actually harness that power to protect the skin from sun damage. These plants of alpine origin inhibit tyrosinase, the enzyme responsible for the production of melanin, to lighten dark spots. As a bonus, it has anti-inflammatory properties that combat skin irritation."
The Calmer: Chamomile
Everyone knows you can drink chamomile tea to calm your nerves. The little white flower does your skin a similar favor. This skincare favorite tends to tamp down redness, relieve irritation and improve texture, giving you that brightened, blooming look. It's also a natural moisturizing agent that's known for fading signs of sun damage.
The Cooler: Cucumber
Soothing coolness is the general idea one gets when thinking of cucumber. No surprise, it has that effect on the skin too. Whether it's from sun exposure or general inflammation, cucumber can bring down the irritation and even improve the look of wrinkles with its famous antioxidant properties.
The Hydrator: Aloe
Remember your mom telling you to put this miracle gel on your sunburn? It's a skin saver. Aloe has been used for centuries to moisturize and soothe skin. It heals dry, flaky areas without feeling greasy or heavy.
SOURCES:  Janmejai K Srivastava, Eswar Shankar, and Sanjay Gupta. 2011. Chamomile: A herbal medicine of the past with bright future. https://doi.org/10.3892/mmr.2010.377 Alison F. Stallings, MD and Mary P. Lupo, MD. 2009. Practical Uses of Botanicals in Skin Care. https://www.ncbi.nlm.nih.gov/pubmed/?term=Stallings%20AF%5BAuthor%5D&cauthor=true&cauthor_uid=20967187 Simona Conea, Parvu Alina Elena, Marian Taulescu and Laurian Vlase. 2015. Effects of Eryngium planum and Eryngium campestre extracts on ligature-induced rat periodontitis. https://www.researchgate.net/publication/279751205_Effects_of_Eryngium_planum_and_Eryngium_campestre_extracts_on_ligature-induced_rat_periodontitis Marta Sánchez, Elena González-Burgos, Irene Iglesias, and M. Pilar Gómez-Serranillos. 2020. Pharmacological Update Properties of Aloe Vera and its Major Active Constituents. https://www.ncbi.nlm.nih.gov/pmc/articles/PMC7144722/
Shop this story
Milk Wash Exfoliating Jelly Cleanser
Exfoliating Jelly Cleanser
$10.00
Milk Drops Probiotic Ceramide Serum
Probiotic Ceramide Serum
$23.00
Bloom Cream Daily Probiotic Moisturizer
Daily Probiotic Moisturizer
$18.00