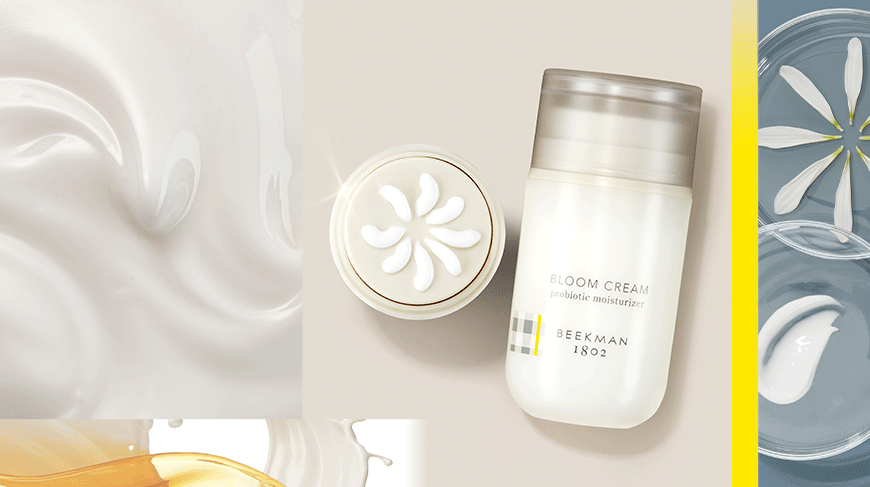 Probiotics Are The Skincare Solution You've Been Looking For.
When we think about our skincare regimens, we're often thinking about dryness or oiliness or redness. We're thinking about sunscreen (hopefully!), smoothness, suppleness. Each of these is essential to how we care for our skin and ourselves. 
But here at Beekman, we focused on a milk-sourced probiotic complex that would address the most important aspect of our skin's health: the microbiome. 
We know, we know. That sounds kinda sci-fi and weird. But it's the most natural thing in the world — and chances are you've already been taking care of it. 
You're probably familiar with probiotics and the health benefits of yogurt, kombucha and other gut-flora cultivators. Sometimes certain substances we put into our bodies can alter the balance of the bacteria in our gut. 
That system of bacterial balance happens both inside your body, and outside on the surface of your skin–it's known as the microbiome.  
"When we think of probiotics, we think of a food source, usually with a milk base," says Justin Hopkins, Beekman 1802's Vice President of Education. 
"But goat milk has been used in skin care for not only centuries but thousands of years. Cleopatra used to bathe in it! Think of milk maidens and how they used to use it on their skin, too, to keep it soft and healthy." 
Your microbiome is the diverse cellular community that lives on your skin. And milk probiotics help to feed your skin the healthy bacteria it needs. 
Our Probiotics help support the microbiome which nourishes and protects your skin's natural bacteria, making it stronger, healthier, and more resilient.
Hopkins goes on to explain that cultivating a healthy microbiome is like creating an army to feed your skin when you have a bunch of rebels fighting you. 
"Irritated, inflamed, chafed skin, when your skin is in a state of unhappiness, that makes it more vulnerable to damage from pollution, the sun, and dirt," he says. "When the microbiome is unhappy it doesn't perform the same." 
Probiotics make that microbiome happy, helping all of your skin cells come together. 
"When you feed your skin what it needs, the bricks come together," Hopkins says. "It's like being at the Beekman farm. When the neighbors are happy and everyone is helping and the community's strong, there are no holes. The environment is working. It's healthy." 
Our Goat Milk & Probiotic encourages the good bacteria your skin needs to be resilient and strong. In other words: It helps your good bacteria bloom. 
With a probiotic base (sourced from a probiotic called bifida ferment lysate), goat milk, and colostrum — literally called "golden milk" — your skin's microbiome receives nourishment, replenishment, and restoration, leaving you stronger and more resilient against pollutants, irritation or inflammation.  
As Dr. Brent Ridge, a cofounder of Beekman 1802, says: Be kind to your microbiome. "A healthy microbiome takes you beyond glowing," Dr. Ridge says. "It makes you bloom."
Shop this story
Liquid error (sections/article-template.liquid line 112): product form must be given a product
Milk Bar Facial Cleansing Bar
Facial Cleansing Bar
$12.00
Milk Foam Calming Bubble Mask
Calming Bubble Mask
$13.00