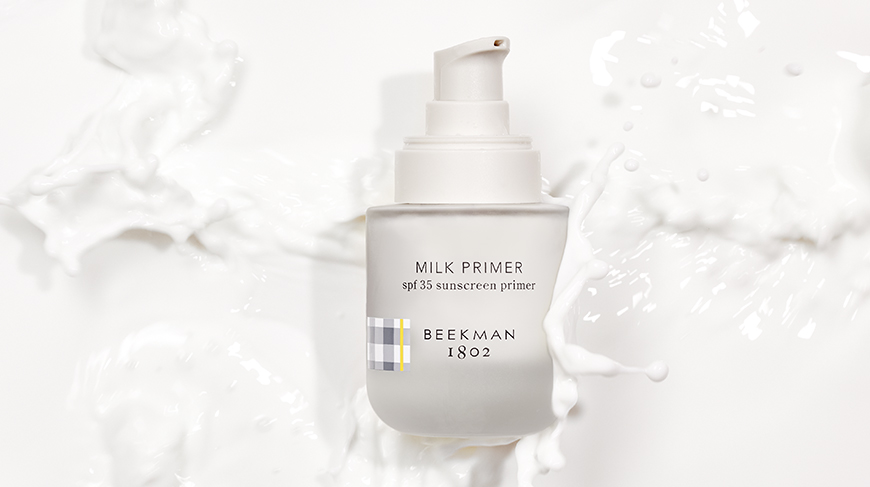 It's the latest skincare-science buzzword—and an important concept to understand as we head into summer. (hint: sunscreen matters.)
Okay, so we've talked a lot about the microbiome, that network of beneficial microbes—bacteria, fungi, yeasts, and viruses—that live on the skin and keep it naturally healthy. And we're quite loud and proud about the fact that our cleansers (Pure Face Wipes, Buttermilk Makeup Melting Cleansing Balm, Milk Wash Exfoliating Jelly Cleanser) and treatments and moisturizers (Bloom Cream Moisturizer, Milk Drops Ceramide Serum, Dewy Eyed Depuffing Eye Serum) were the first products at Ulta Beauty to be certified Microbiome Friendly by MyMicrobiome. That's because maintaining a balanced microbiome is at the very core of our goat-milk based, probiotic-powered skincare philosophy. Without this living shield, which is too often stripped away by over-cleansing and harsh chemical ingredients, the skin is left exposed to outside invaders. And that's where the exposome comes in.
If the genome is the hand DNA dealt you, health-wise, and the microbiome serves to safeguard your health, the exposome is the sum total of external factors that affect that health from conception. British cancer epidemiologist Christopher Paul Wild, director of the International Agency for Research on Cancer, first coined the term in 2005. It wasn't until the past few years, however, that scientists began applying the concept specifically to skin, and only right now that the cosmetics industry has started taking note.
You can probably guess the major exposomic dangers to the dermis: free radicals, cigarettes, alcohol, poor diet, stress, lack of sleep, and that whopper of a culprit, UV rays. Obviously, nurturing the skin's microbiome provides some protection, but you know what we're going to say: Wear sunscreen with an SPF of at least 30. Of course, we're also going to recommend our sunscreen, because we formulated it to do everything, we want a sunscreen to do and not do (ahem, chalky residue!).
Let us count the ways we love our Clinically Kind™ Milk Primer SPF 35 2-in-1 Daily Defense Sunscreen & Makeup Perfecter:
1. The first benefit is right there in the title. This sunscreen doubles as a primer for makeup, minimizing pores and creating a velvety, matte finish.
2. It's mineral-based and relies on natural zinc oxide to form a physical shield against both UVA and UVB rays, as well as blue light.
3. Zinc oxide has anti-inflammatory properties that make it ideal for sensitive skin, and it's safe for use on children and expectant mothers.
4. We've added aloe, to soothe temporary redness and inflammation caused by time in the sun, but no irritating fragrances.
5. You can apply the stuff, swim in the ocean, and know that the ingredients won't damage coral reefs.
6. Our lightweight, non-greasy formula absorbs instantly into skin and doesn't leave behind the dreaded, and aforementioned, white chalky residue.
7. It also contains goat milk and probiotics that nurture the skin's microbiome for long-term exposomic protection.
8. You can customize the 2-in-1 primer and sunscreen by incorporating our Golden Booster, packed with natural Vitamin C, which amps up your skin's defenses against sun damage and premature aging.
Consider it insurance against exposomic factors and a boost for your microbiome—the key to healthy skin that blooms from within.