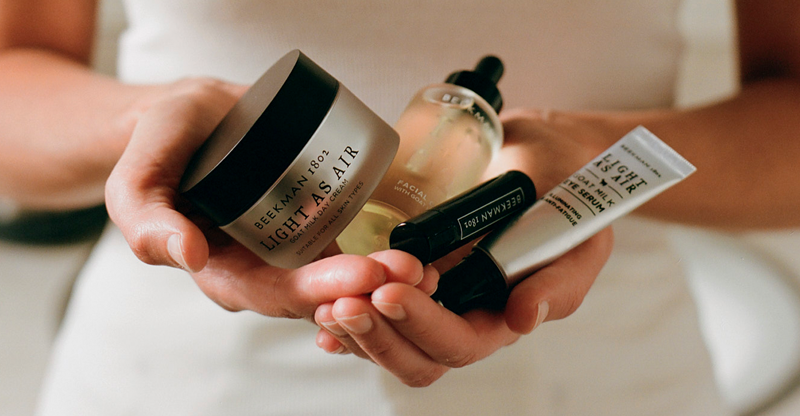 How a Hawaii Girl Got Her Glow Back in NYC
After living in New York for ten years, I realized that the city grind had caught up with my complexion. My skin was dull, tired, and constantly looked like it had been through rush hour on the subway. So, I made it a goal to get my skin back to its natural state . . . an Aloha state!

Growing up in Hawaii, surrounded by towering Ko'olau Mountains (fun fact: they filmed Jurassic Park pretty much in my backyard), and a melting pot of cultures, the focus was always on embracing natural beauty. Girls would squeeze lemon in their hair and let the sun give them highlights. Burns were tended to by breaking off a bit of aloe from the backyard and rubbing its juice against the skin. Heading to the beach barefaced was the only way to go.

On the flip side, I was also familiar with heavy stage makeup from a young age. I started performing traditional Chinese dance when I was four, and with that came experience packing on thick foundation, bright red lipstick, blush, and false lashes. This early exposure to makeup sparked a love that would carry through my twenties. I'd spend hours watching YouTube gurus demonstrate the perfect technique for winged eyeliner.

As I've gotten older, though, my beauty focus has steadily shifted from smoky eyes and cut creases to skincare. Now that I'm about to turn 33, I get more excited about the products that will take my makeup off. I look for products that will leave my skin feeling healthy and radiant. I've been living in New York for ten years, but I find myself wanting to return to my Hawaii girl roots — to be able to run out the door bare-faced and confident in my skin.

So how did I plan on getting my natural glow back? I wanted to find a natural solution. Enter Beekman 1802.

Before being introduced to the brand, I had no idea about all the benefits of goat milk for the skin. A bit of internet sleuthing revealed to me that it's super hydrating and nourishing. Goat milk is high in Vitamin A, contains lactic acid (which helps slough off dead skin cells), and works to balance the pH of your skin. I was excited to see how my skin would transform over an 8-week trial period of their products.

I stuck with the classics for my new skincare routine. In the morning, I washed my face with the original Milk Bar and followed up with the Light As Air Eye Serum, Blaak Serum, and the Light As Air Face Cream. I double cleansed at night, removing makeup with the Triple Milk Cleanser and then washing my face with the Milk Bar, and hydrating with the Blaak Night Eye Serum, Blaak Serum, and Blaak Face Cream. Twice a week, I changed things up, cleansing with the Activated Charcoal Face Scrub. For extra exfoliation, I added the Triple Milk Peel to my routine a few times throughout my journey.

I was probably most eager to see the effects of the eye serums. Even on a day when I wear minimal makeup, I typically don't leave the house without some concealer under my eyes to hide my dark circles. Right away, the eye serums became some of my favorite products because of the cooling applicator. It feels so good against the skin! At four weeks, the puffiness under my eyes had decreased, and at six and eight weeks, my dark circles were visibly lighter.

One of the biggest differences between the air in New York and the air in Hawaii — aside from pollution — is the moisture levels. Fresh, dewy skin is kind of a given in the humid atmosphere of Hawaii (I know, why would I ever leave, right?). The harsh NYC winter had definitely taken a toll on my skin. On top of that, six weeks into my trial, I caught a bad cold and constant tissue friction wreaked havoc on my nose. This is all to say that the Blaak Face Cream was my saving grace. Because I needed some heavy-duty hydration, I started to use it in the morning in place of the aptly named Light As Air Face Cream (which I'll be switching back to in the summertime). As a winter moisturizer, the Blaak Face Cream did wonders keeping my skin from feeling dry and tight, and I even avoided a dreaded peeling nose after my cold. Bonus: I was a big fan of the soothing scent, especially before bedtime.

Another game-changer for me was the Blaak Serum. I actually didn't start using this serum until about two weeks in, but I'm almost glad I started late because then I was able to see how much it made a difference. In general, serums are one of those products that I've always had my doubts about. Do I really need one more step before my moisturizer? But this experience made me a believer. Before using the Blaak Serum, my routine had my skin feeling clean, healthy, and hydrated, but once the Blaak Serum entered the picture, that's when the glow really started to emerge. My skin became softer to the touch, the redness on my cheeks evened out, and it was like a dull veil had been lifted from my skin. The Blaak Serum was like a booster shot for all the other products I was using.

And so, eight weeks in, I'm absolutely loving my skin. It looks and feels brighter and healthier. More often than not, I find myself going foundation-free. I feel good running out the door at a moment's notice, and though it might not be to go to the beach, I feel that much closer to my Hawaii-girl natural glow. Who would have thought a small goat farm in upstate New York would be just what I needed to get back to my roots?