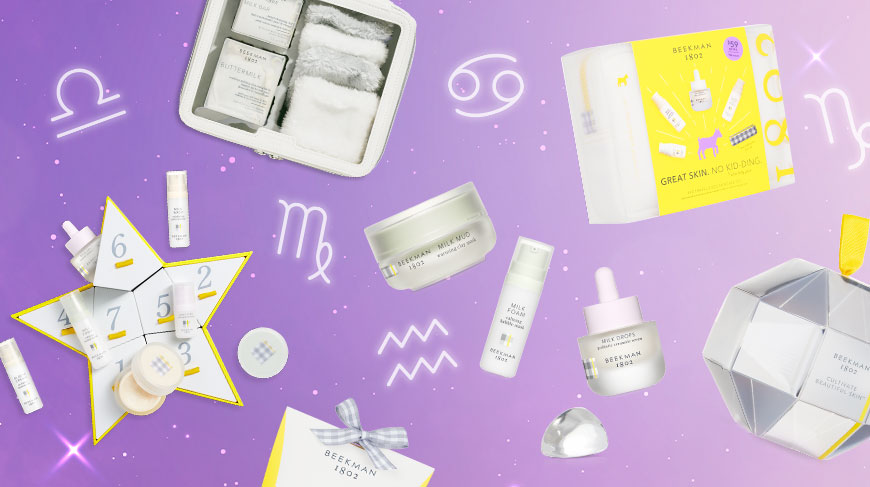 Beekman 1802 Holiday Gifts by Zodiac Sign
By Lisa Stardust 
Finding the perfect gift for your bestie, family member, crush, or SO is hard and daunting every year. Luckily, we compiled a list of the ideal gifts from the Beekman 1802 Collection that each zodiac sign will flip over. We did all the hard work, now all you have to do is shop the zodiac signs to warm up their stockings and hearts this holiday season. 
Capricorn 
Milk Drops & Massager Gift Set
Capricorns often need a release for all of their internal stresses — after all, they are the busiest worker bees of the zodiac. A face massager and Beekman 1802's Milk Drops Probiotic Ceramide Serum will alleviate tensions and bring ultimate relaxation to the sea-goat (which is totally needed during the holidays). 
Aquarius 
Milk Mud & Milk Foam Mask Gift Set
The water-bearer is always looking for new ways to revive and detox their skin. Now, they have a complete set of two unique and awesome products that can help them boost their vibe and cleanse their beautiful faces. They'll become instantly obsessed with both the clay mask and bubbling face mask. 
Pisces 
Being the mystical sea-dwellers that they are, Pisces will absolutely love receiving a full set of soaps. Now, they can have options to use when engaging in their favorite detoxing and relaxing activity — taking baths. They will totally use this amazing present nearly every day throughout the year when bathing. 
Aries 
Winter Blooms Tinted Lip Balm Set
This scented gift set will warm up the heart of fiery Aries on the coldest of nights this winter. It will also evoke their innate sugary and spicy vibe this season, making them giddy from the holiday spirit and seasonal flavors. Therefore, it will become their new cosmetic staple.  
Taurus 
Milk & Honey Travel Bar Soap Set
Honey is the flavor of Venus, the planetary ruler of Taurus, which is why the Bull will be drawn towards this sweet blend of soaps. Also, they'll love the Milk that's mixed in with the candied aroma. Taurus will feel like they're on cloud nine whenever they use this soap.  
Gemini 
As one of the more social signs of the zodiac, Geminis are always texting. The perfect gift for Gemini is not a new phone — it's hand cream to ensure their fingers don't get rough and tough from the winter air, so they can continue their social vibe without a hitch. 
Cancer 
Milk Probiotic Skincare Starter Set
Cancers don't like leaving anything up to chance, which is why our Milk Probiotic Skincare Starter Set is a perfect gift. It's a full routine that made to work together, no guessing or worrying required.
Leo 
Honeyed Grapefruit Bodycare Set
Grapefruit is the essence of Leo, which is why they will be naturally drawn to this citrus scent. Not only is the scent perfect, but it has everything (from lush soaps to rich lotions) that any regal lion needs this holiday and to start off 2021 on the right paw. 
Virgo 
Virgos like to keep their beauty routines simple. This amazing skincare kit will not only cleanse their skin, but it will give them the basics needed to implement the proper upkeep to their natural and organic skincare game. They will absolutely appreciate the thoughtfulness of this lovely present. 
Libra 
As the romantics of the zodiac, Libras need skincare products to flaunt their glow off to others. This stellar gift set is not only delicious to smell but also is amazing. It will make anyone's skin look refreshed and revived — as well as feel silky smooth all year round.  
Scorpio 
Honey & Orange Blossom Bodycare Set
This is the perfect gift set for evocative Scorpio. It contains sweet vanilla notes along with spicy orange zest — which will uplift Scorpio's senses and make them jump for joy every time they use these products and smell them. In fact, they'll use this as their new signature scent.  
Sagittarius 
Home on the Road Travel Bar Soap Set
As the free spirit of the zodiac, Sagittarius is known to feel at ease when living out of their suitcase. They will absolutely love this travel size soap set. This gift set will be the perfect item for them to take on their next big adventure or local road trip.