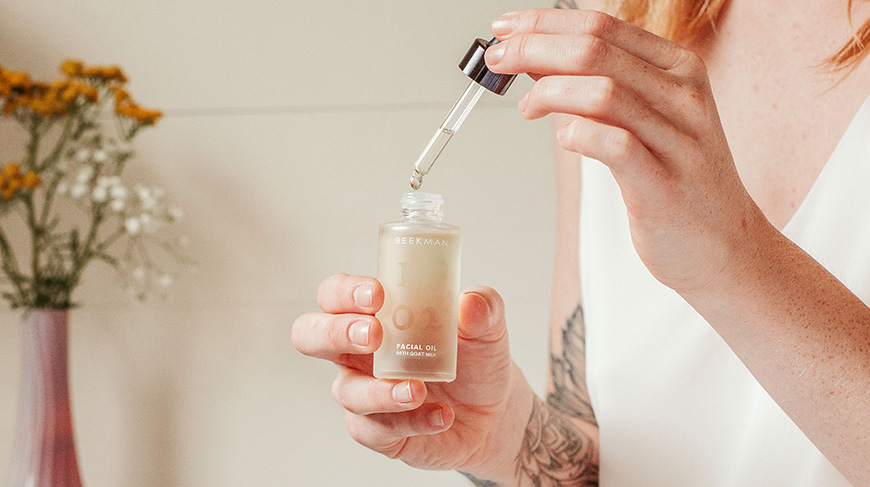 18 (+02) ways to use Facial Oil
You may not believe it, but oil is actually good for your skin! It's all about using the right oils to moisturize, balance, soothe, and more. Don't believe us? Well here's 18 (+02) ways to use facial oil from head-to-toe. 
1. Body Polish Mix with sea salt to make a quick body polish.

2. Massage Oil Warm it up in hands and use as a massage oil.

3. Cold Sores Soothe cold sores to help soothe and speed up healing time.
 
4. Cuticles Rub into cuticles before your in-home manicure.

5. Bath Soak Add a few drops into an Epsom salt bath for an at-home soak.

6. Dry Hands Massage over hands and cover with gloves to hydrate dry hands.

7. Deodorant Use as a deodorant replacement to keep you smelling fresh.

8. Body Butter Add a few drops to your body butter to add extra hydration.

9. Foundation Mix in a few drops with your foundation for lighter coverage.

10. Makeup Remover Use as an oil cleanser to help melt off makeup.

11. Insect Repellant Mix with a few crushed mint leaves for a natural insect repellant.

12. Night Serum Apply after using your AHAs and Retinol night treatments to keep skin from drying and peeling overnight.

13. Scalp Moisture Massage a couple drops into your scalp.

14. Heat Protectant Rub a few drops from roots to tip before blow-drying.

15. After Shave Add a couple of drops to soothe skin and prevent razor burn.

16. Belly Oil For our mamas-to-be use daily on the belly and thighs to avoid stretch marks and keep skin hydrated.

17. Stretch Marks Squalane helps stretch marks fade quickly.

18. After the Sun Soothe inflamed skin and help extend that tan!

19. Lip Balm Add a couple drops directly to lips to add shade and shine.

20. Facial Oil Balance your skin's oil production and help minimize pores without excess sebum.